ARTIST'S STATEMENT
My process in the studio begins with spontaneity. I don't plan what the painting will look like. I begin by drawing shapes and brushing on lots of rich color. I add line and change up the values and hues. The process is intuitive.
Recognizable images emerge. Rectangular shapes sometimes resembling barns, circular stone shapes, architectural elements, and birds all play a role. These initial shapes may disappear and reappear throughout the process. Recently, these objects are buried in layers of paint and gel, leaving a distant memory of anything recognizable. The energy of these objects remains in the painting however! At some point in the process there is a conscious composition, the work becomes more deliberate. I add layers of paint and gels, I sand parts, creating textures and depth, opacity and transparency. My goal is to make the painting convincing. I want a peacefulness to the work and at the same time I want tension and strength. I love to paint and I want to share my joy with the viewer. Most importantly, I want my work to be original and fresh. I strive to give the viewer a new way to look at the world. These days with the pandemic touching the lives of millions throughout the world, I find fear, sadness, compassion and distress governing my process. My paintings start with chaos. I vacillate whether I want to leave the disorder and confusion or whether I will bring in a sense of peace and quiet. My work is a way of trying to understand the world.
Wendy Weldon
Artist Musings August 26 2017
In discussions with my Gallery Director, I shared
some ways to talk with gallery visitors about my abstract work……
In September I am in a Martha's Vineyard Museum fundraiser Art Show.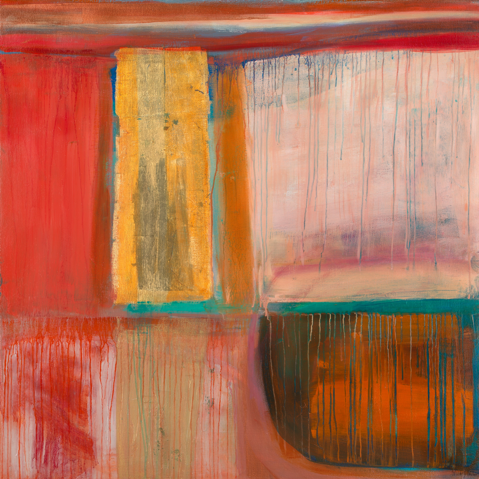 Erosion at Lucy Vincent Beach is the painting in the exhibit. The following statement was in response to the Museum's directive. Brief artist statement on the following: How does the Island's landscape (land and sea) impact and inspire your work?
Last winter I spent many days walking on Lucy Vincent with my dog Lillie Belle. The "tower" of Lucy was impressive, each day with different lighting, each day with a different temperature, with no wind and wind that I had to wrestle with, and each day with a very different feeling. These moody days at Lucy Vincent beach ended up in my monotypes and paintings. Although I am not a landscape painter, the extraordinary beauty of the Vineyard eventually ends up in my work!
There is a tension with the Lucy tower of sand. It is magnificent, princely and at the same time so vulnerable. With abstract art I can paint this dynamic, the push and pull, the dark and the light, the smooth and the rough, the bright and the matte surfaces, the majestic and the less majestic…etc. When a painter paints realistically, she may be restricted by the confines of the actual natural landscape or seascape. I have no restrictions. What I wrote in the Hermine's Arts and Ideas article may be helpful in understanding my process. The whole article may be helpful?
I started my painting career in the 1960s, abstract impressionism was all around me. I gravitated towards Mark Rothko. He wrote, "If you are only moved by color relationships, you are missing the point. I am interested in expressing the big emotions - tragedy, ecstasy, doom."
My emotional range is more about expectation, joy, sadness, love, disappointment, celebration and the unknown. Like Mark Rothko my paintings are guided by emotions and color. If the viewer doesn't feel anything good or bad when looking at my work, I am failing as a painter. I am hoping to convince the viewer that the arrangement of shapes, colors, lights and darks are perfectly placed. There is just the right amount of red or blue! The viewer may or may not understand the arrangement of shapes and colors and at the same time, like the emotions they feel when looking at my work. Confusion about why they like the painting may be a deterrent in deciding to buy it. How can we make them more comfortable with their feelings of pleasure or curiosity or attraction?
Giving them information about the painting may help them relax and feel more comfortable. I use nontoxic acrylic paints which are very durable. I use a varnish that protects the surface of the painting from the sun's UV rays. The stretcher bars are hand crafted in California and are always perfectly square. They will not warp. The canvases are stretched over a thin piece of wood which strengthens them and keeps them from losing their perfect shape. Gold leaf is impervious to light damage. I have been painting for over fifty years and I have sold over 600 paintings. Although I choose to paint abstract paintings these days, I have painted semi realistically over the years. My mother always told me that I needed to know how to draw if I wanted to paint well. Some abstract painters often started off drawing and painting images before they moved on to abstract work.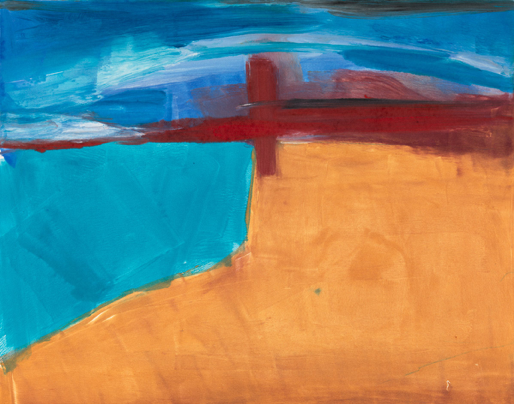 Lucy Vincent 16 x 20 image, 24 x 28 frame, acrylic on paper
My process often begins in the print studio at Featherstone Center of the Arts. I make paintings on a piece of plexiglass, lay a sheet of wet paper on top of the plexiglass and roll the paper and plexiglass through a French printing press. Then I peel off the paper from the plexiglass and look at the image. It is a quick way of producing a painted image. Then I continue to paint on the "printed" image, completing the process, ending up with an acrylic painting on paper. I bring these pieces to my painting studio, tack them on the wall and use them as a jumping off place for my canvases. During the painting process, everything changes. I may start working from a similar composition to the painting on paper and then the painting begins to dictate the direction I go in. Shapes change, colors are constantly being tweaked, lines are drawn and then taken away, the energy builds, until the painting may say,I am complete!! Or it may say, stop working, take a break and then come back to me later or a week from now when you can see what is not working in the painting. I return with a fresh new vision and begin to understand what needs to happen to make the painting convincing. Sometimes I work on a painting for years, sometimes weeks and sometimes a few days. Each painting has its own unique story. Sometimes, I completely paint over a finished painting, making it into to something completely new. The process is ongoing and addictive. Painting is the healthiest obsession I have. The colors draw me in. They are so beautiful sitting in my paint boxes that I can't resist dipping my brush into them and see what they look like on canvas. Mixing the colors is similar to making a special dish for dinner. Each color or ingredient changes the mixture until I am ready to see what this new color does to the painting.
And this process continues on. It is exhilarating. The opportunity for me to "play" with paints and the colors is a true privilege.
Thank you for taking the time to read some details about my thought process and my actual physical process.
THANK YOU FOR SITTING IN THE GALLERY DAY AFTER DAY DEALING WITH THE VISITORS AND BEING PATIENT WITH THEM.
Wendy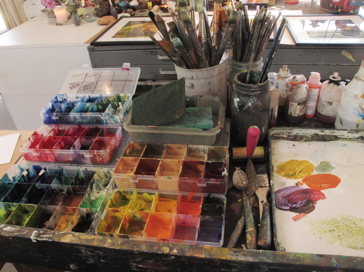 Like so many artists, musicians and writers, I am saying no to hate and violence through my art. I am giving a visual alternative to the suffering of so many living creatures. Through bright vibrant color I lighten the burden. The energy in my paintings and prints express my emotional responses to the news. My work expresses optimism. The process of painting and printing leads me away from my sadness. I am seeking out a balance. I feel the pain and I paint the fleeting joy. I trust my process and I hope that it continues to reveal more of what I feel and more of what I want to say. Painting reminds me to keep an open mind.
Images of barns and stonewalls are taking a front row seat in my new work. I have added some sunset inspired pieces. Bright colors, different palettes and unusual compositions are just some of the elements this year.
2014 has been a year of inspiration for me. I have wanted to return to a more abstract composition in my work. Recognizable images have dominated my paintings over the last few years.
The color is the most important aspect of my work. I feel freer than I have in a very long time. Limits in my work only cramp up the process. Being tight, self conscious, or too careful just stops the flow of energy.
Working at Featherstone in the print studio has been the key to loosening up. There are four of us regular printmakers and we have a ball. We play with color and shape, we comment on each others prints, we help each other with technique and we talk about other artists who inspire us. We share books and articles on art and painting and printmaking. I come home after each session with a few prints. I tack them up on my studio wall and see where they take me. Are they convincing? Are they a good jumping off point for starting a big canvas? The prints themselves are sometimes not finished. They get worked on and changed. They get mounted on wood. They take on their new life. Here are a couple of examples of some new monotypes.
What is that I want to say with my work this year? Why do I paint?
It is the color. Color reflects energy. What is going on in the world around me scares me, stimulates me, drives me crazy, and makes me cry. How do I respond? I mix a color that matches my emotion. Then I mix another and when they are near each other, they change, my feelings change, and something new is created. This new color, colors take me to a place I have never been before. This journey is what I love. It has its mystery and I want to stay there, in the unknown. I dont want to paint what I already know. From time to time, I stop and look at the work taking mental notes about color or composition and for a few moments I am in the outside world. I dont stay long as I may lose my place and get too comfortable.
What am I saying in my work? I express my fear, my love and my sadness. Color can transform an emotion into something manageable. Color gives me permission to spread the paint on thickly or to sponge it on in a thin transparent layer. Color is my answer to so many questions I have about the universe. Why are we here? I paint. Why are relationships so hard sometimes? Why cant I get along with her? Why does my dog have to die (Below is a painting titled For Zoe which expresses my deep sorrow about my constant companion). There are endless questions and endless answers with paint. As a friend put it so clearly, Painting keeps me here.
I am interested in why people are attracted to a painting. Where does the painting take them? Are they comforted or excited? Does the painting have eternal mystery? Does my experience painting the work have any relationship to their response to it?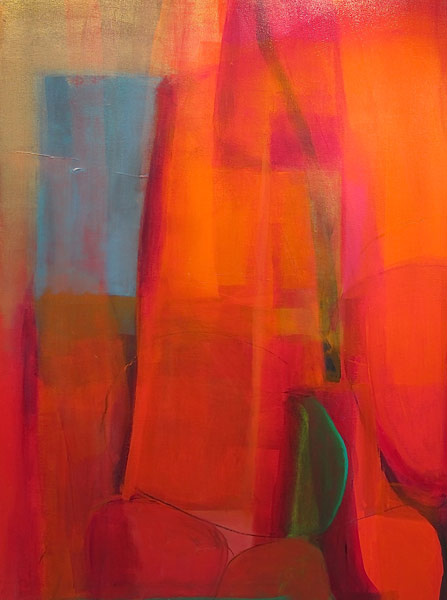 The studio is home. The smells, the light, the paintings of all sizes and shapes strewn about the room, some painted some still naked. Jars of brushes, tiny ones, fat ones, round and angled ones. The ever-expanding shrine catches my eye, reminding me of my past and my passion to collect things. The old religious icons, the Italian fresco reproductions, the stones, the wampum, the beach glass, and the photos.
What is that I want to say with my work? Why do I paint?
Maybe it's the color. Color sends me inward. Color gives me courage. Color enlightens me. Color shakes my bones. Color never loses its appeal. Color is my addiction.
I am alone in my head when I paint. It is a vast world that I live in with a brush or a sponge in my hand. It is safe in there. I can move about with freedom. I am unconnected to the outside world although I can hear and see it. The real world and its noise protect me, leaving me inside my private space. I work with abandon and without thinking, or being controlling and manipulating. I make no judgments on my canvases. I am someone at that point that no one else knows. I often can't remember painting a painting. I look at it a week or a month or a year later and I know it is mine but I have lost the memory of the experience of actually applying the paint.
From time to time, I stop and look at the work and analyze the composition, color, etc. and for a few moments I am in the outside world. I can't stay long because I will lose that magic inside world. When I intellectualize the process too much, I kill a piece. It suffers from overwork and too much attention. Self-consciousness weakens paintings, sucking up their life force. Too much time between the moment of inspiration and the applying of paint dilutes the inspiration.
I can't answer the question of what is it that I want to say. I don't know. I paint because it completes me somehow. When an audience likes my work, I am honored. I don't expect praise. I am always a little curious as why they are attracted to a painting. Where does the painting take them? Are they comforted or excited? Does the painting have eternal mystery? Does my experience painting the work have any relationship to their reaction to it?
I close up the paint boxes, sealing them and protecting their moisture until next time we see each other. I turn off the overhead lights, glance again at the work, take a couple of deep grateful breaths and leave the studio.
A large empty canvas covered in creamy white gesso. Three boxes filled with a myriad of colors, five different blues, luscious greens, rich yellows, bright white, bronze, gold and copper. Jars of brushes, tiny ones, fat fuzzy ones, perfectly squared off ones. The sun is pouring in from the side of the studio filling the room with light. The overhead floods are erasing any shadows. The canvas is ready and the process begins. Excitement mixed with some trepidation. I dip a large brush in the color boxes, mixing an orange on the palette. A squarish shape appears. Then some green fills an an area. Yellow appears in the back. A painting begins to emerge. The energy flows through me. Any idea of a plan that I may have had before starting the painting has merged with the composition, the color, and the movement of shape. The wet sponges move more paint around. The sander roughs up a too perfect area. A sheet of gold leaf finds it way to its home. More paint, more leaf, more sanding. And then a break, maybe for a day or two or maybe for only a couple of hours. Another painting calls me away, asking for attention and so it goes for hours, for days, maybe weeks until the canvas says, "no more, leave me. I am complete." I worry about whether this painting will sustain itself. Will it get to a place where the viewer knows it so well that they don't notice it anymore? That is my fear. The painting has to have eternal mystery. Each time someone looks at it, can they see or feel something different? The painting has an identity as if it is human. The painting's personality is interesting, not always predictable. The painting can be moody, upbeat and positive one minute, contemplative and serious, the next minute. The viewer is able to be surprised even after a few years of knowing the painting. That is my goal, paintings full of mystery and complexity. May my paintings never get lost in a sea of repetition.
My latest work expresses my return to more abstracted imagery. I have spent many years moving away from the abstract to the more objective. My major influence in the 70's and 80's was Mark Rothko and as my painting progressed this year, I began to feel his influence back in my work once again. The major difference between my previous non-objective paintings and my new work is there are now remnants of objects, namely barns, interspersed with the color fields. I have been using many textures, finding different surfaces to reflect and absorb color. I contrast flat color with more sensual soft color. There is a compatible relationship with unknown shapes and recognizable shapes. I have imposed no rules or limits on my work. I wanted to see where experimentation took me. I felt free to try just about anything. It was a liberating year. I discovered new ways to put down color and make it sing. There was so much joy in the process. Painting never seemed like work. I had no expectations. Something shifted in me this last year. It was as if I had been sleepwalking in my studio and suddenly I woke up.
Over the past couple of years I had painted less barn paintings. I missed my barns so last winter, I focused on painting barns, almost exclusively. This recent collection of paintings on paper and on canvas comes from my heart.
I began painting and drawing barns in the 1970's when I lived in Northern Vermont. I wanted to learn how to draw and the gorgeous barns throughout the Vermont landscape provided endless challenges for my inexperienced eye. I made woodcuts from my drawings. The woodcuts were naive, full of emotion and they served as jumping off place for my barn paintings. I returned to my abstract painting in the 80's and in the late 1990's, I began choosing barns again as a subject matter for my work. The Keith Farm barn, visible from Middle road, was my main inspiration and still is. Although the barns in this year\'s series do not always resemble the Keith Farm barn, that beautiful barn is behind all the images.
Many of these paintings explore the relationship of two barns. Their visual communication, with color, size, dimension, and value gives me many levels to investigate. These paintings filled my studio creating many new friendships.
Sometimes I am asked if it is difficult to let these paintings go into the marketplace?
I will miss them as we have shared some wonderful times together. The most remarkable part of being a painter is the energy to continue creating new work, making new friends on paper and on canvas. I love to paint. I love color. Barns give me endless opportunities to do what I love.
I live in Chilmark year-round. My home faces Squibnocket Pond, a ribbon of sand dunes and Noman's Land. I look at the wetlands, the cedars and the varied wildlife residing near the pond.
This year, in my paintings, I honor Squibnocket Pond. I love the stonewalls, the curves of the land, the blues of the pond, the Hornblower barn on the south shore, the tree line against the horizon, and the changing shades of the shrubs and undergrowth.
Over the winter I studied the water quality of the homes in the Squibnocket Pond watershed. The level of nitrogen, in the pond is of concern to the community. I continue to work with the town of Chilmark to preserve this precious resource, protecting the pond from the sometimes-destructive human touch.
My paintings celebrate the beauty that I am priveleged to experience. They reflect my commitment to be a steward of this beautiful area.
The paintings express both the light (beauty) and the shadows (potential nitrogen threat) that exist in and around Squibnocket Pond.
In October of 2005 I was fortunate to travel to Tuscany with friends from the Vineyard. Tuscany was spectacular, stimulating all of my senses: natural beauty, delicious food and wine, wonderful cool sunny weather, birds singing, the smell of lemon trees and rosemary, and most importantly, the paintings and frescoes of Fra Angelico.
Fra Angelico?s work is breathtakingly beautiful with an abundance of rich color and gold leaf. The Metropolitan Museum had an extensive exhibition of his paintings last winter so I was able to study his work further.
Fra Angelico?s paintings have many strengths: composition, scale, iconography, balance and symmetry, patterns and textures, just to name a few.
My iconography is quite different than his. He paints saints and angels and I paint stones and barns. I wanted to connect us somehow and began looking at his compositions in particular, his altar pieces with the gold outlining the top triangular shape. I wanted to create a sense of old surfaces like the frescoes. I experimented with the enthusiasm of child with her first paint box. There were no rules or guidelines. I had no expectations. I was free to explore endless possibilities. It was a wonderful year in the studio.
Over the winter of 2005, I began working into some canvases that I had painted in the late nineties. They were painted during what I call my "bed and lamp" period. My work during the 1980's and early 1990's had been non-objective abstractions. I had wanted to change my work but I had no idea what I wanted to paint next. After painting maybe fifty self-portraits, I began to paint shrine objects that I had collected from various flea markets. After the shrine work, my paintings were inspired by a week's vacation to Puerto Vallarta. I concentrated on my hotel room bed and lamp arrangement, painting dozens of different configurations of these objects. There were pillows, light bulbs, electrical outlets floating around with the beds and lamps.
In 1999, I moved from California back to Chilmark. The Keith farm barn and the Vineyard stonewalls began to appear in all my canvases and monotypes. The beds and lights faded away.
This year in the studio was literally the "Unplugging of the Past". Memories of the past became incorporated with occurrences in the present. It was a freeing up of past limits. Beds turned into barns. Soft abstract areas became stonewalls. The original compositions transitioned into unexpected arrangements. The reworking of the older ones inspired new paintings. It has been a very energetic and enjoyable year in the studio.
During the last few years my work has focused on personal imagery in an abstract setting. I began as an abstract non-objective painter in the late 1960\'s, concentrating mostly on color-field work. Over the last few years Vineyard stone walls have figured prominently in my prints and paintings. I also have had and still have a minor obsession with painting the Keith Farm Barn in Chilmark. It's beauty amazes me each and every time I see it from Middle Road. Throughout my whole career, I have had an on going affair with color. Just opening up my paint boxes and seeing all the luscious colors continues to give me a thrill.
The pieces in the Vineyard Playhouse WOMEN AND WORK show are monotypes and were printed on the press at The Featherstone Meeting House for the Arts. The print process involves painting with printing inks on a plexiglass plate and then taking one print from the plate, hence, the term, \"mono\" type. Often I collage material onto the print, sometimes during the printing process or after in the studio.
I am currently represented by Shaw Cramer Gallery, located on Main Street in Vineyard Haven.
February
These paintings span a few years. The older work is primarily abstract and color-field. The abstracted architectural forms of doors and windows in these paintings have been explored in the new work. These mysterious areas are now more specific and structural, sometimes with recognizable imagery. The recent work is about paradox; light and darkness, joy and sorrow, fear and courage, opposite energies seemingly existing at the same moment. The bed symbolizes safety, security, aloneness, and privacy. The lamp or light source symbolizes inspiration, vision, illumination and warmth.
I also document journeys and events, honor lost friends, and explore relationships between interior and exterior spaces, both physical and emotional.
My new studio space was formerly a mechanic's garage. The building is flooded with natural light. Grahams Garage has been around for a long time in the Almonte neighborhood of Mill Valley and I feel very lucky to enjoy this historic sight as my studio.
March
The bed series, which I am working on now, began after a week's holiday in Puerto Vallarta, Mexico in 1995. The way my bedroom looked with the room dark (either at night or in the daytime with curtains drawn) and the bedside lamp on, made an impression on me. I even photographed our room (a first!!). The shaft of light from the lamp and the huge plane of the king-sized bed felt a little bizarre and at the same time appealing and inviting.
Looking around my studio at all my work I am struck by my obsession with beds, light bulbs, lamps, and light shafts. These are my tools. I am attached to them and I want to explore these elements more. The bed is central in all our lives with much activity of the conscious, the unconscious and the subconscious mind.
Beds can be soft and hard. They are lonely places and comfortable places; places to meditate, to sleep, to rest (maybe forever). Sometimes they are in a lush environment, sometimes a stark one. Light can come from lamps or windows or from imaginary sources. The light illumines, throwing a bed in darkness or the room in darkness with only the bed in light. Sometimes the light floats over the room making it seem hazy and mysterious.
My drawings are studies in which I can explore specific possibilities and setups of beds and light. I feel freer working on paper than I do when painting on canvas. I like the smooth surface; I like the way the paper curls and wrinkles and the way it accepts and sometimes rejects layers of paint, gel and varnish. The paper feels alive and sensitive. Paper is also forgiving which encourages me to be courageous and experimental.
October
SKETCH BOOK WRITI NGS, OCTOBER 31 1997
Looking around my studio at all my beds, light bulbs, lamps, light clouds; I am struck by the singlemindedness. I am focusing on just a few elements. I mix them up, match them together, cross match them, turn them upside down.
Are these my tools? Will I always use beds and lights? Maybe. I am awfully attached to them now and I feel there is much more to explore. Beds sit in dark, in light, and in shade- in cool air, hot steamy air; one feels sadness, joy, excitement, hate and love. The bed is central in all our lives- much activity of the conscious and subconscious mind.
Sometimes they are in a lush environment, sometimes a stark one. The light can come from lamps or windows or from inside our heads. The light illumines, throwing a bed in darkness or the room in darkness with the bed in light. Sometimes the light floats over the room making it seem dusky.
Dreams happen while we sleep in bed. Time expands out of conventional reality into another realm. Ideas, actions,events occur in strange light. Awakened from our dreams there is another time zone, full of confusion, joy, excitement, hate and love.
This group of paintings came out of a transitional period in my work. For many years My paintings were primarily color-field.. There were architectural hints of doors and windows, mysterious spaces left unexplored for the most part. Now I have entered into those areas with more focus. The paintings are more personal and specific. The palette has changed. There is more structure and less mystery. I have been fascinated by old things which I have collected or found over the years and now I have allowed those images to appear in my paintings.
I have also documented journeys and events, honored lost friends, and explored relationships between interior and exterior spaces, both physical and emotional.
As I worked on this body of paintings I was struck by how one painting had many paintings within it. I recorded a lot of information all at once. My paintings allowed me to sort and to distill the enormous input of stimulation into our lives. And as I grow as a painter, I hope to improve the filtering process without losing the energy of all the input.